Thinking about a move to the Greater Philadelphia area? You've come to the right place! Since entering the Philadelphia market in 2022, Eddy Homes has been dedicated to delivering the best homes in the region. With a solid reputation built on high standards for quality, personal service, and integrity, Eddy Homes has made our presence known in the Philadelphia suburbs and surrounding areas, including new townhomes in Northern Delaware, just as we are known as one of the Best Home Builders in Pittsburgh. 
Eddy Homes has been helping families build and buy their dream homes in Pittsburgh for over 50 years. We know that choosing to relocate can be exciting and overwhelming. You're bound to have many questions about what it's like to live there, how much it costs, or what jobs are available. Today, we'd love to help by sharing with you what to expect when moving to Philadelphia and about the homes we build in the Greater Philadelphia area
Relocating To The Philadelphia Area? Here's What To Know! 
There are more than 4 million people residing in the five-county Greater Philadelphia area (Bucks, Chester, Delaware, Montgomery, and Philadelphia counties) and more than 1.5 million in Philadelphia itself, making it the second-largest city on the East Coast and the sixth-largest city in the country.
If you are relocating to Philadelphia, you may be wondering how much it costs to live here and whether the job market is stable. One of the most important things to know before moving to Philadelphia or its surrounding suburbs is that the cost of living varies depending on where you end up living. The average price of housing varies considerably, too. On average, the Philadelphia region isn't as pricey as some areas, like New York, DC, or San Francisco. But it's not the cheapest place to live, either.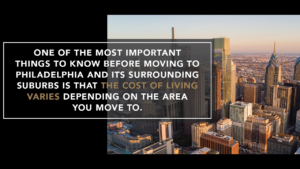 The cost of living index for Philadelphia is slightly more expensive than the average U.S. city. Overall, the total cost of housing, food, child care, transportation, health care, taxes, and other necessities in the Greater Philadelphia area is slightly higher than the U.S. average and slightly higher than the average for the rest of Pennsylvania. However, you also have easy access to tons of rich history, diverse culture, delicious cuisine, and more. And there are many opportunities for personal and professional growth. For instance, if you're looking to move here for a new job, it's a great place to relocate!
The Greater Philadelphia area's job market is as diverse as the city itself. It's a hub for several industries, including healthcare, education, and financial services. The region is home to the nation's largest per capita concentration of higher education institutions; they also happen to be among the area's biggest employers. The city has several Fortune 500 companies, including Comcast, Crown Holdings, and Aramark, providing many job opportunities. Easy access to tech talent and funding, as well as strong life sciences and data analytics programs, make Philadelphia a great place for start-ups and entrepreneurs. The large millennial population contributes to the city being a favorite place for entrepreneurs and start-ups.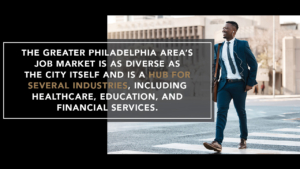 As the home to several top-ranking educational institutions, including the University of Pennsylvania, Temple University, and Drexel University, Philadelphia offers access to a variety of programs, including renowned business and medical schools. The city also boasts a vibrant cultural scene, with many museums, theaters, and festivals that enrich the learning experience of students and residents alike. From the Franklin Institute to the Kimmel Center, there is always something new and exciting happening.
Philadelphia is a two-hour drive from New York City, two-and-a-half hours from Washington, DC, and 45 minutes from Atlantic City, with convenient access to the Pennsylvania Turnpike, I-76, I-95, and the New Jersey Turnpike. (FUN FACT: 25% of the U.S. population lives within a five-hour drive of Philadelphia!) 
Philadelphia International Airport (PHL) hosts 25 different airlines that offer about 500 daily flights to more than 120 domestic and international cities. Amtrak's 30th Street Station is a major East Coast hub, with trains that run along the northeast corridor serving Boston, New York, Baltimore, and Washington, DC. When it comes to public transportation, the Southeastern Pennsylvania Transportation Authority (SEPTA) has a vast network of bus, subway, train, and trolley services in the city and the suburbs. 
When it comes to living in Philadelphia or its suburbs, you should know that all of its "ring" counties (Bucks, Chester, Delaware, Montgomery) in Pennsylvania, and New Castle County in Northern Delaware, were part of William Penn's vast land holdings in the late 1600s. Each county supported Philadelphia with its farms, forges, and mills, helping to make the city the financial and industrial center of the early United States. While all of them honor their pre-colonial and colonial roots in various ways, each has its own identity today. Currently, Eddy Homes is building in Montgomery County and Delaware County, as well as New Castle County in Northern Delaware. 
School Districts of the Greater Philly Area
No matter which community you choose to settle into, there's a top-rated school nearby. Below is a list of the districts currently serving families in our homes in the Greater Philadelphia area.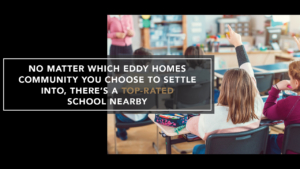 Abington Township | Montgomery County (Christine Lane Estates)
Abington School District | Diverse & unique 
Marple Township | Delaware County (Ashbrooke)
Marple Newton School District | Academically competitive  
Media | Delaware County (Orange Street Walk)
Rose Tree Media School District | Highly ranked in PA 
Southern Delaware County (Garnet Pointe)
Garnet Valley School District | A+ rated 
Northern New Castle County (DE) (Overlook at Linden Run) 
Red Clay Consolidated School District | Award-winning 
The Best Homes For Sale in Philadelphia and the Surrounding Areas
In your search for homes for sale in the Philadelphia suburbs, including new townhomes in Northern Delaware, you'll find there are many options that will offer a high quality of life. Eddy Homes is proud to offer you estate homes, single-family homes, and townhomes in prime locations. Our communities feature different floor plan offerings and amenities to accommodate your needs and lifestyle. Whether looking for a family-friendly community in a convenient location or a low-maintenance community with scenic views, Eddy Homes has the perfect place to call home. Check out our available communities below and contact us for current pricing!
Ashbrooke | Marple Township | Delaware County, PA
Just moments away from all the Main Line has to offer, Ashbrooke presents a collection of five luxury single-family homes on beautiful ½-acre homesites. These homes are thoughtfully designed with versatile floor plans to accommodate your unique lifestyle.
Christine Lane Estates | Abington Township | Montgomery County, PA
Located in Abington Township, Christine Lane Estates is a quaint cul-de-sac community of five luxury single-family homes, each on a 1+ acre homesite, with several spacious floorplan options and plenty of options to personalize. 
Garnet Pointe | Southern Delaware County, PA
Garnet Pointe is a private cul-de-sac of 16 luxurious homes with high-end finishes, options to customize, and stylish exteriors, offering exceptionally designed single-family floorplans on ¾-acre lots. 
Orange Street Walk | Media | Delaware County, PA
Orange Street Walk is a quaint enclave of five luxury single-family homes in the heart of Media, blending new construction with a traditional community. Just a short stroll to Media Station and shopping and dining options on State Street. 
Overlook at Linden Run | Northern New Castle County, DE
Overlook at Linden Run, located in Pike Creek, Delaware, is convenient to both Philadelphia and Wilmington. The community offers 17 high-end townhomes with open floorplans and spectacular views, with every home backing up to extensive preserved open space. 
Whether you incorporate a pre-selected Design Collection or customize your design from start to finish, you'll work with an accredited in-house Design Consultant to perfect your dream home at The Studio. In the spirit of collaboration, together we bring your vision to life! You'll have the opportunity to explore many design possibilities to personalize your home. Our designers begin with a Lifestyle Evaluation, where we'll learn more about your style and start designing your personalized dream home. Next, we provide a preliminary plan and detailed cost breakdown that you can review and refine. Once the design selections and budget are approved, we develop your final home plans and prepare to break ground on your new dream home. With 50 years of experience perfecting the luxury home-building experience, Eddy Homes has proven its ability to make the process of investing in a new home both fun and easy. Our team will help you through the design process ensuring refinement, beauty, and continuity of design in your home.
Contact Eddy Homes Today!
The Greater Philadelphia area is a wonderful place to live that provides many exciting new opportunities and experiences. Eddy Homes is thrilled to provide you with brand-new personalized homes for sale in Philadelphia and its suburbs, including new townhomes in Northern Delaware. With us, you can expect nothing less than a carefree experience with a caring team that pays attention to details. We offer a straightforward and stress-free process that includes you every step of the way to ensure you're confident and happy with your new home purchase.
Already own your land, or are you in search of the perfect homesite? Our Eddy Everywhere program is ready to make your dream home a reality. From designing a home to match your lifestyle to helping you find land and exploring its full potential, our goal is to offer an "easy button" for bringing your vision to life. Learn more about Eddy Everywhere here! 
If you have any questions, we're here to help. Contact us by phone or online to get started, or visit our social channels to get connected!