Thinking about a move to the greater Pittsburgh area? You've come to the right place! Eddy Homes has been helping families build and buy their dream homes here for over 50 years. Choosing to relocate somewhere new can be exciting and overwhelming. You're bound to have many questions about what it's like to live there, how much it costs, or what jobs are available. Today, we'd love to help by sharing with you what to expect when moving to Pittsburgh and about the homes we build in the greater Pittsburgh area.
Your Relocation Guide to the Greater Pittsburgh Area
You may be wondering how much it costs to live here and whether the job market is stable. Fortunately, the cost of living in Pittsburgh is below the national average by about 7%. The new homes in Pittsburgh, PA are reasonably priced and the city is affordable with many opportunities for personal and professional growth. For instance, if you're looking to move here for a new job, it's a great place to relocate.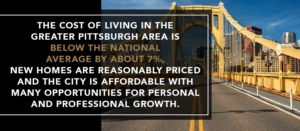 Known as the Steel City for its role in the history of the nation's steel industry, Pittsburgh's job market has grown to include many different industries. You'll find opportunities in healthcare, education, leisure and hospitality, technology, manufacturing, and engineering. The city is home to several Fortune 500 companies like Kraft-Heinz, US Steel, and PNC Financial, and there are numerous medical facilities great for both employment opportunities and seeking medical services. The University of Pittsburgh Medical Center (UPMC), Children's Hospital of Pittsburgh, Allegheny Health Network, and Excela Health are just a few facilities to consider for employment.
When living in Pittsburgh and the greater Pittsburgh area, you'll notice plenty of walkable neighborhoods. However, there are many other ways to get around town or travel outside of the city. The city has 700 Port Authority buses that operate every day of the year. Take a trip to downtown Pittsburgh on the bus or commute to work at one of the 27 Pittsburgh Light Rail train stations. It offers a 26.2-mile light rail system that stops in suburbs south of the city and in downtown Pittsburgh as a deep-level subway. The Pittsburgh Regional Transit makes traveling simple and safe with tons of resources however you prefer to travel. Bicyclists can take advantage of bike-friendly paths and bus riders have access to updated schedules on their website. If you want to explore cities a bit further or even outside of the state, the Pittsburgh International Airport will get you there. Travel to Washington, DC, Philadelphia, New York City, Cleveland, or wherever you want!
When moving to Pittsburgh, you'll probably want to know what the area offers in entertainment experiences. From the Three Rivers Arts Festival and Pittsburgh Vintage Grand Prix to the Buhl Planetarium and Frick Park, there's an option to suit everyone's interests. Traveling to the Strip District is a treat for residents and visitors alike with an array of festivals, events, bars, restaurants, boutiques, markets, and more. Taste test the Honey Bourbon at Wigle Whiskey Distillery or enjoy a delectable Paella at Gaucho Parrilla Argentina. The beautiful nature scene is another highlight of living in Pittsburgh and its surrounding areas. Frick Park is the largest park here with 644 acres of land. Take a hike on the trails, play a set of tennis, or birdwatch over 100 species of bird at Clayton Hill. Swimming, horseback riding, paddle boarding, biking, and more are available in the various parks and attractions near Pittsburgh. Interested in the arts or expanding your horizons and knowledge? You'll love exploring the Cultural District, Children's Museum, Carnegie Science Center!
School Districts in the Greater Pittsburgh Area
No matter which community you choose to settle into, there's a top-rated school nearby. Below is a list of the districts currently serving families in our homes in North, South, and West Pittsburgh.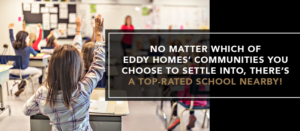 North Pittsburgh
North Allegheny School District
Pine Richland School District
South Pittsburgh
Chartiers-Houston School District
Peters Township School District
West Pittsburgh
Fort Cherry School District
Where Can You Find Homes for Sale in Pittsburgh, PA?
In your search for homes for sale in Pittsburgh, PA, and in the surrounding suburbs, you'll find there are many options that will grant you a high quality of life. Eddy Homes is proud to offer you luxury estate, traditional single-family, main-level owner's suite homes, and townhomes in prime locations North, South, and West of Pittsburgh. Our communities feature different floor plan offerings and amenities to accommodate your needs and lifestyle. They're located in Marshall Township, Pine Township, Wexford, Peters Township, Washington, and McDonald, PA. Whether looking for a family-friendly community in a vibrant setting with fun for the whole family or a low-maintenance community in a peaceful setting with scenic views, Eddy Homes has the perfect place to call home. Check out our available communities below and contact us for current pricing!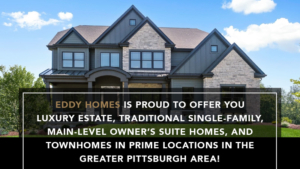 North Pittsburgh 
South Pittsburgh
West Pittsburgh
Connect with Eddy Homes Today!
The greater Pittsburgh area is a wonderful place to live that provides many exciting new opportunities and experiences. Eddy Homes is thrilled to welcome you to the area with a brand new personalized home. With us, you can expect nothing less than a carefree experience with a caring team that pays attention to details. We offer a straightforward and stress-free process that includes you every step of the way to ensure you're confident and happy with your new home purchase.
Already own your land, or are you in search of the perfect homesite? Our Eddy Everywhere program is ready to make your dream home a reality. From designing a home to match your lifestyle to helping you find land and exploring its full potential, our goal is to offer an "easy button" for bringing your vision to life. Learn more about Eddy Everywhere here! 
If you have any questions, we're here to help. Contact us by phone or online to get started, or visit our social channels to get connected!